2016….Bring in the New!
Well, as usual, the Festive break flew by and here we are at the start of 2016… We at Varsity hope you all had a good rest and like ourselves are raring to go.
As mentioned in our last blog we will be adding to our range and we will be announcing a new product in January. We are also currently designing and producing a new swatch showing our full range of products, which we hope will be of great interest and help to all our customers.
The new January stock list is being produced and will be posted out over the coming days; we can also send this over in a PDF file. If you would prefer to receive it in this way please let one of our internal/external team know.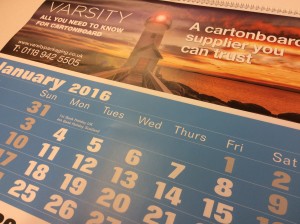 Look out for more information in the coming days and meanwhile, we wish you all a prosperous New Year!